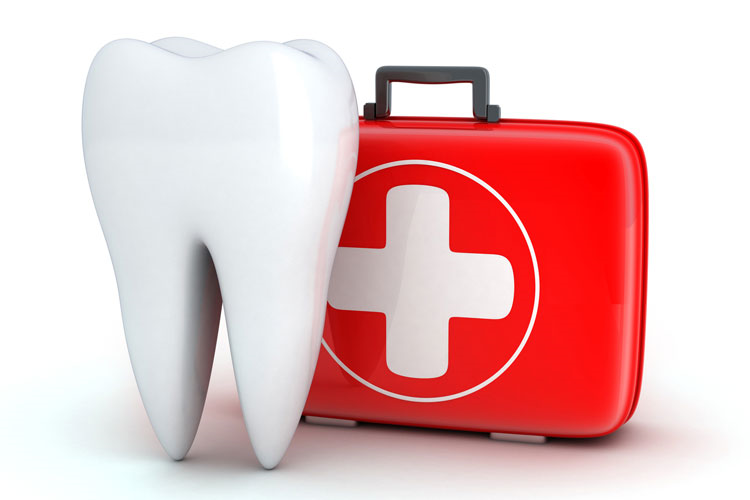 You have a toothache:
Toothache can have many different causes, e.g. caries under a filling, too much pressure on the teeth due to teeth grinding or fillings and crowns that no longer fit exactly. Therefore, you should always visit our practice so that we can get to the root cause of your complaints. In the meantime, take a suitable painkiller recommended by the pharmacy.The pain occurs at the weekend?
Please contact the dental emergency service. You can find this in the daily newspaper or at www.notdienst-zahn.de
A tooth has broken or has gone lost after an accident:
Now it depends on your help! To increase the "chance" of your tooth, please do the following:
Do not wash the tooth or touch the root. In this way you avoid damaging the sensitive root skin
Store the tooth in a tooth rescue box or in sterile isotonic saline solution. You can get both at the pharmacy.
If necessary you can also put the tooth in fresh, cold UHT milk
Come to us or to the dental emergency service immediately
 
Your gums are infected:
As a rule, you can use a medical mouthwash solution with the active ingredient chlorhexidine, which you can get in your pharmacy.
Alternatively, you can also rinse with sage or chamomile tea to mitigate the inflammation.
If you frequently suffer from gingivitis, please make an appointment with us so that we can get to the root cause.
A crown, inlay, or bridge has become loose:
You can temporarily reattach them yourself using commercially available toothpaste or denture adhesive cream. Then please log in promptly at our practice.
We will then make your inlay or dentures fixed permanently again as soon as possible.
Bleeding after major surgery:
Occasional slight bleeding after a tooth extraction is not uncommon and you should not be worried. You can stop the bleeding by cooling the affected cheek and tightly biting down on a clean cloth handkerchief. Sit up straight or lie down on a raised cushion. 
If, contrary to expectations, the bleeding does not stop, please call us. The same applies if you experience an unpleasant taste or your cheek swells up again after a few days.